His Grace Radheshyam Das, M. Tech., IIT, Mumbai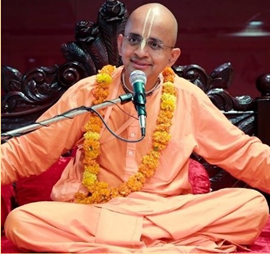 Radheshyam das, born in a town close to Madurai, Tamil Nadu South India in a devout brahman family where he got exposure to Vedic chants of Brahmans regularly visiting homes for religious events, which fascinated him the most in his childhood. His father was Professor and Head of dept of English who inspired him regularly with books of English authors like Shakespeare, Henry David Thoreau and Charles Dickens as well as philosophical books like Bhagavad Gita and Mahabharata.
As he proceeded to high school, he went through several Bible correspondence courses as well as visited many spiritual Organisations and their books in quest of Absolute Truth. His search brought him to ISKCON in 1991 where he found his ultimate spiritual shelter in the teachings of Srila Prabhupada through his books and lectures, by the association of HH Radhanath Swami Maharaja and HH Bhakti Rasamrita Swami Maharaja.
He dedicated his life as a fulltime brahmacari at Sri Sri Radha Gopinath Mandir, ISKCON Chowpatty in 1994 and was subsequently sent to ISKCON Pune in 1995. He was ordered to start youth preaching at Pune by his Spiritual master, HH Radhanath Swami Maharaja and his GBC HH Gopal Krishna Goswami Maharaja.
In 1997 he was made the Temple President of ISKCON Pune. In the following years he started the famous youth organization within ISKCON called BACE (in 2000) which was subsequently renamed as VOICE (in 2003) to distinguish it as a spiritual center with strict morning programs and dynamic preaching center with tens of youths chanting sixteen rounds and following four regulative principles.
In 2004 on the inspiration of his GBCs, Radheshyam das organized a National Youth Festival (NYF) at Pune where over 5000 youths all over India participated and over 15 Srila Prabhupada's disciples offered their association to all of them.
Eventually ISKCON Pune thronged with thousands of youth devotees. Over five hundred youths dedicated their life as Brahmacaris and half of them were sent to over a dozen temples in India and abroad, where they took the responsibility as fulltime devotees expanding further youth preaching as well as temple services. In India there are over a 100 VOICE centers and in Bangladesh alone there are over fifty VOICE centers.
While the temple Community of Pune swelled to over 6000 members in the Congregation, Radheshyam das in 2012, embarked on the Pune Spiritual landmark, NVCC New Vedic Cultural Center, Sri Sri Radha Vrindavanchandra Mandir and Sri Balaji Mandir in a six acre land at Katraj Kondhwa, Pune with 50 rooms Guest House, Govindas and Cafetaria, BMS (Bhaktivedanta Model School), four Marriage and Function Halls, Ayurvedic Spa, Yoga and Wellness Center, Farm fresh and natural oil products and with Prasad halls for over 3000 devotees. While Food For Life Krishna Prasadam unit at NVCC serves Free Breakfast and Free full Lunch and evening cup prasad for all visitors at the Temple, Annamrita which is located in another part of Pune reaches out Prasadam to millions of children and the needy. NVCC and CAMP temples have training programs for Children, Boys, Girls, Corporates through which they get trained in basic philosophy of Krishna consciousness.
DYS (Discover Your Self) an internationally acclaimed Course, designed by Radheshyam das for youths and corporates, has a blend of Science and Spirituality, due to which it is most welcomed by logical thinkers and spiritually inquisitive. What follows the DYS Course is a series of GAME Courses (Gita for All Made Easy), which bring a newcomer to a seriously practicing 16 rounder devotee in a span of one to two years.
He also offers credited courses on Management Principles from Mahabharata, Applied Bhagavad gita, Practical Spirituality for Students etc in various Colleges and Universities.
Pune temple also has a forum for systematic training in Srila Prabhupada's book known as BVRV (Bhakti Vedanta Raja Vidyalaya). It has both class room setup as well as online operations. It offers Courses such as Bhakti Sastri, Bhakti Vaibhava, Bhakti Vedanta, Sandarbhas, Sanskrit Courses, etc. One of the principles they follow is to keep education free and charge only for basic materials supplied to students, to make training in Srila Prabhupada's books easily approachable by all.
IVSS (ISKCON Vanaprastha Sanga) initiative was started in 2022 to inspire and train Grihastas moving to Vanaprastha order to take up organization and administration of all ISKCON Pune activities and release Brahmacaris to travel outdoor for preaching. There are quarterly two day Retreats which Radheshyam das personally leads with a team of devotees and has motivated over a hundred sincerely practicing Vanaprastha men. Similar training is on pipeline for their wives too, which will be conducted by senior devotee ladies.
While Center for Value Education (CVE) caters to totally new children in offering daily online classes (for over 500 children), BVVA (Bhakti Vedanta Vidya Ashram) offers daily spiritual training for over a hundred Congregation kids from age group 7 to 13. These children not only learn from classes, but perform various cultural programs and expert in KC Philosophy, sloka and mantra recitation and instruments playing.
ISKCON NVCC Pune steadily bagged the First Rank in Prabhupada Book Marathon during the years 2019, 2020, 2021 and 2022 and have a sturdy set up for storing and reaching out SP books on large scale with spotless systems of communication and transportation.
Radheshyam das also took the responsibility as Co-President of ISKCON Hyderabad from 2018.
He graduated from the GBC College after which he was offered the post of GDO (Global Duty Officer) for youth outreach in West. Now he travels to USA twice a year for 1.5 months/visit to reach out to various Universities and Temples at Boston, Brooklyn NY, New Jersey, Baltimore, Connecticut, Washington of DC, Harrisburg, Deleware, IFAST, Bloomington, Chicago, Dallas, Austin, Houston, San Jose, San Diego, Los Angeles and Seattle and other places to give programs for youth in Universities as well as offer inspiration, strategy and operational support to Youth Mentors and serious practitioners amongst youth and to establish BYS (Bhaktivedanta youth services) centers to support ISKCON temples with youths in their services and preaching.
He also is awarded the RSA (Regional Secretary Assistant) to GBC for the following areas : Aurangabad, Kolhapur, Satara, Ahmednagar and Pune.
The Masterpiece contribution, which can be called icing on the cake above all these is his Training Programs for various sections of Pune and Hyderabad Community – training of Leaders, Preachers, Managers through SLATE (Servant Leaders Applied Training and Education) and MALT (Managers And Leaders Training) and Youth Camps for youth leaders through ROYAL (Rajarsi Outreach Youth Association for Leaders) for VOICE youth leaders and strategy planners and mentors, BLISS (Brahmacari Leaders Inspiring Spiritual Sanga) and Vrinda programs for Brahmacaris, BVVA for Teenagers, BHAKTAAVALI for USA mentors and his personal online and offline classes for all. His youtube channel (https://www.youtube.com/@RadheshyamDasDevotionalvideos) and his website (www.radheshyamdas.com) are well utilized by devotee leaders for direction, guidance, inspiration and wisdom in practicing KC and preaching KC vigorously, through which he reaches out to the hearts and lives of those who like his model – live and preach faithfully as per SP's teachings.
Radheshyam das stays half the month in Pune and spends one week/month in Hyderabad and travels to over dozen places in the last week of every month.
He attributes and owes all his success to his faithful team of devotees in ISKCON Pune youth leaders, Brahmacari leaders and Congregation Prabhujis, Matajis and Children.
Academics
· an IIT Mumbai Topper
· After working with CECRI as a Senior Research Fellow and as a Mechanical Engineer at THERMAX and MATHER & PLATT companies for a few years, he took up role of Celibate monk, Youth trainer and mentor and Corporate Advisor
Senior Leadership Roles in Community development
· President of ISKCON, Pune since 1997 leading a Community of 6000 members.
· He is one of the four Presidential board members of ISKCON Abids, Hyderabad Temple
· Recently GBC Nominations committee chose five GDOs (Global Duty Officers) for the global initiatives of ISKCON from year 2019 and he is appointed as one of the GDOs for Training youths from/in the West; he visits USA every year for 3 months to following places: Boston, Brooklyn, New Jersey, Connecticut, Baltimore, Dallas, Austin, Houston, San Jose, Seattle, Los Angeles etc.
· He also is awarded the RSA (Regional Secretary Assistant) to GBC for the following areas : Aurangabad, Kolhapur, Satara, Ahmednagar and Pune.
Contribution to Youth and Corporates
· Founding Director and President of VOICE (Vedic Oasis for Inspiration Culture and Education), a Youth wing of ISKCON which offers Systematic Courses and Training modules for training College and Company youths in SQ based leadership.
· Youth Trainer for last 25 years in all leading IITs, NITs and several other engineering Colleges of India and abroad. These trained youth are now great assets to the society offering youth welfare services in Pune, Kolkata, Kanpur, Varanasi, Juhu, Thane, Bangalore, Hyderabad, Dharwad, Belgaum, Mysore and other places.
· Designer of DISCOVER YOUR SELF book with internationally acclaimed PowerPoint show,
· Compiler of Youth books like `Stress to Smile' and five volumes Essence of Gita
· Global Excellence Award winner for educating Youth in Bhagavad Gita & Jiva Goswami Award winner for Innovative youth outreach
· Corporate Seminar Presenter at Bank of America, INFOSYS, Deutsch Bank, Cognizant, Persistent etc presented Seminars at MIT Boston, University of Texas A & M, Stanford University, Cornell University and University of Washington etc.
Visit Boston to reach out to youth in North Eastern Uty, Boston Uty, MIT and Harward Uty